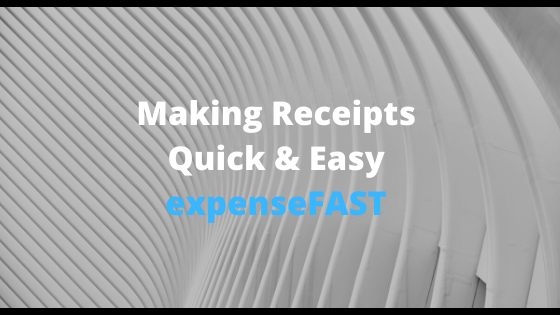 Creating your First Receipt Template
March 3, 2020
Making a receipt template isn't difficult. We've made our receipt designer tool with the intention of it being exceptionally easy to use for the task of making receipts. You've probably seen Excel Doc templates for receipts like this Excel Receipt Template or Word documents like this Word Receipt Template. But it is really difficult to use Word, Excel or even Photoshop to build receipt templates since they were designed with creating receipts.
expenseFAST was designed with the sole purpose of creating receipt templates. There is nothing else like it in the world!
To start, choose a receipt template from the vast library of pre-made receipt templates. There are receipt templates for every possible purpose. ATM receipts, bank receipts, restaurant receipts, fuel / petrol receipts, rideshare receipts, rent receipts and many many more.
Once you have chosen a receipt template to use, the system goes into receipt designer mode. The screen displayed is a canvas with the receipt details on-screen for editing. Any item on the receipt designer canvas can be edited. Just click the text or image and you can edit instantly. The text fields can be modified quickly to change the receipt template to match your needs. For example, if the receipt template shows a business name of "Revive Restaurant" and you need to change the restaurant name to "Sam's Steakhouse" – just click on the text "Revive Restaurant" and the editor will make that text available to edit. Clear the restaurant name from the textbox using the backspace or delete key and then type "Sam's Steakhouse" into the field.
You can also edit any of the receipt template's text or image attributes using the toolbar on the side of the screen. For example, if a receipt template needs larger text – you can click on the text you'd like to increase in size and then modify the font size using the FONT SIZE widget on the sidebar.
Images can be edited, added or removed from any receipt template. Clicking "Add Image" on the lefthand toolbar will open a dialog box to upload any JPG, PNG or GIF from your computer to the receipt template designer. Once uploaded, the image will appear in the preview window on the left of the screen. Click on the preview image to apply the image to the canvas. Then resize the image on the canvas by dragging the corners of the image in any direction.