Office Depot OfficeMax receipt
expenseFAST has a variety of receipt templates in many expense categories. Our receipt generator tool gives you the power to customize any receipt with your own information. Choose a receipt from our library, edit it to fit your needs and then download the receipt to your device.
Create Your Own Custom Receipt
Use this Office Depot OfficeMax receipt within our online receipt generator to create a custom receipt.
Create a Office Depot OfficeMax receipt with our receipt generator. Select the Office Depot OfficeMax receipt from the template library. Edit and customize the receipt. Instantly save and download your customized receipt.
What are the reasons you might need a receipt from Office Depot OfficeMax ?
• To prove that you made a purchase, in case of a dispute or warranty claim • To provide proof of purchase for tax purposes • To track and monitor your purchases for budgeting and accounting • To return an item if you are not satisfied • To get maximum resale value on secondary marketplaces or consignment shops
What products are made by Office Depot OfficeMax and where are they sold?
Office Depot OfficeMax offers a wide variety of products for the home and office, including office supplies, furniture, technology, cleaning and breakroom supplies, print and document services, and school essentials. They are sold in Office Depot OfficeMax stores, online at officedepot.com, and through third-party retailers.
What is the return policy without a receipt at Office Depot OfficeMax ?
At Office Depot OfficeMax, all returns require a receipt. Without a receipt, customers may be eligible to receive store credit at the lowest advertised price.
How can I get a duplicate receipt from Office Depot OfficeMax ?
The best way to get a duplicate receipt from Office Depot OfficeMax is to contact the store directly and request a copy. Depending on the store's policy, they may be able to provide a printed or digital version of the receipt.
What elements are typically shown on a Office Depot OfficeMax receipt.
Elements on a Office Depot OfficeMax receipt include: - Store Name and Location - Date of Purchase - List of items purchased (including item number, description, quantity, and price) - Tax information - Total amount due - Payment method - Return and exchange policy In addition, Office Depot OfficeMax receipts may also feature promotional offers and discounts, loyalty program information, and a unique barcode for tracking and identification.
Reference Receipt Images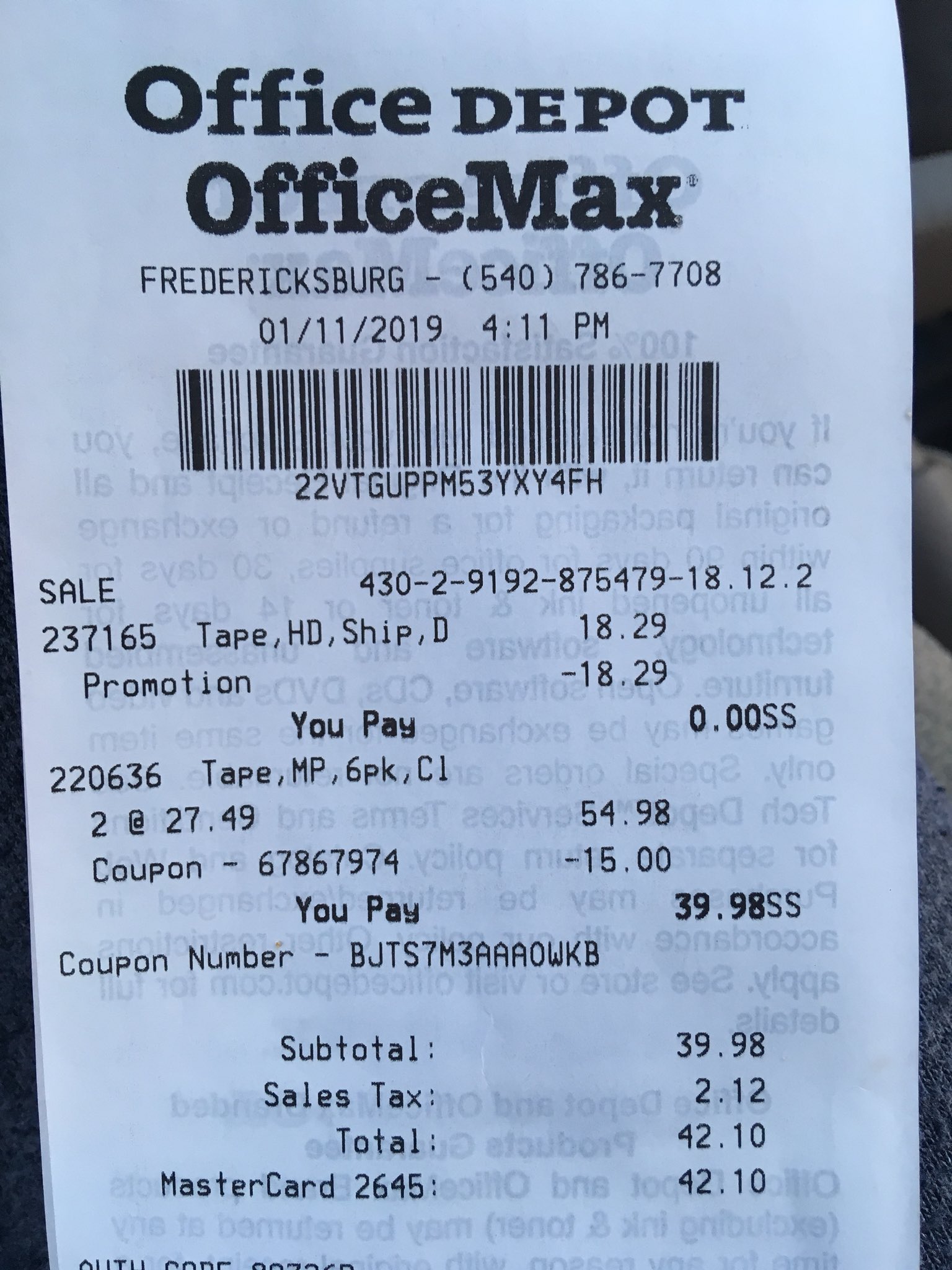 .