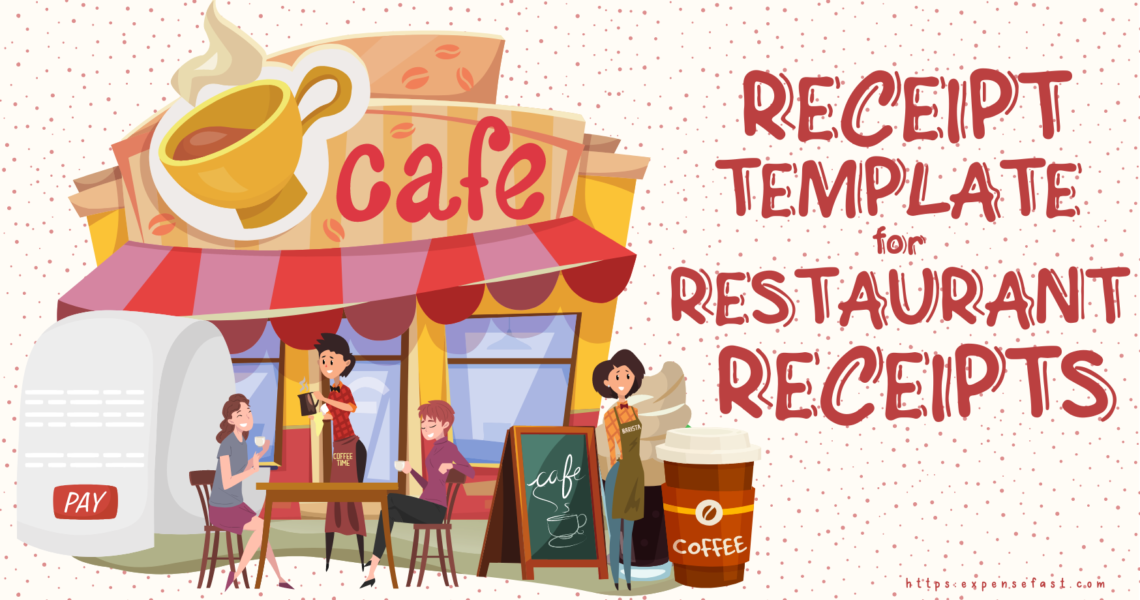 Receipt Template for Restaurant Receipts
January 29, 2022
Receipts are important and necessary documentation of the transaction between a customer and a business. It is used by both parties to prove their ownership of the items and services purchased. In the case of restaurant receipts, they are also used as evidence that a customer has indeed dined at the business. An increasing number of people these days are choosing to receive digital receipts from businesses thru their mobile devices by giving their email addresses. The demand is increasing because they are easier to process and store than paper ones. With the growth of technology, everything is becoming more digitalized, and one innovation is the receipt generator. A digital restaurant receipt is a new concept in the restaurant industry.
Tailoring a restaurant receipt template will help you in various ways.
You will save a lot of your precious time as you don't have to go thru the process of creating a new one every time.
As the template is customized, there are no chances of errors occurring during the printing process, in case the customers demand printed receipts.
A restaurant receipt template helps promote the business as it gives a professional look to the receipts generated by your business.
Customers tend to keep these receipts for their purposes of accounting, and they also serve as an advertisement for your business.
Receipts provide an opportunity to practice your brand name and logo repeatedly, which makes it worthwhile when it comes to ROI (return on investment).
Receipts don't only serve as an advertisement, but they also serve another purpose of providing customers with information about the product they purchased such as:
Business name
Business address
Business city, state, zip
Business telephone
The date and time of the receipt was created
Cashier or employee name who transact or assisted
A detailed overview of all items, including price and the quantity
Discount, if any
The total amount payable, including any applicable taxes and fees
Types of payment method
Amount Change
Additional notes or marketing promotions
Company Logo, Tip, and signature lines are also available on some templates or if you may wish to add to your preferred receipt template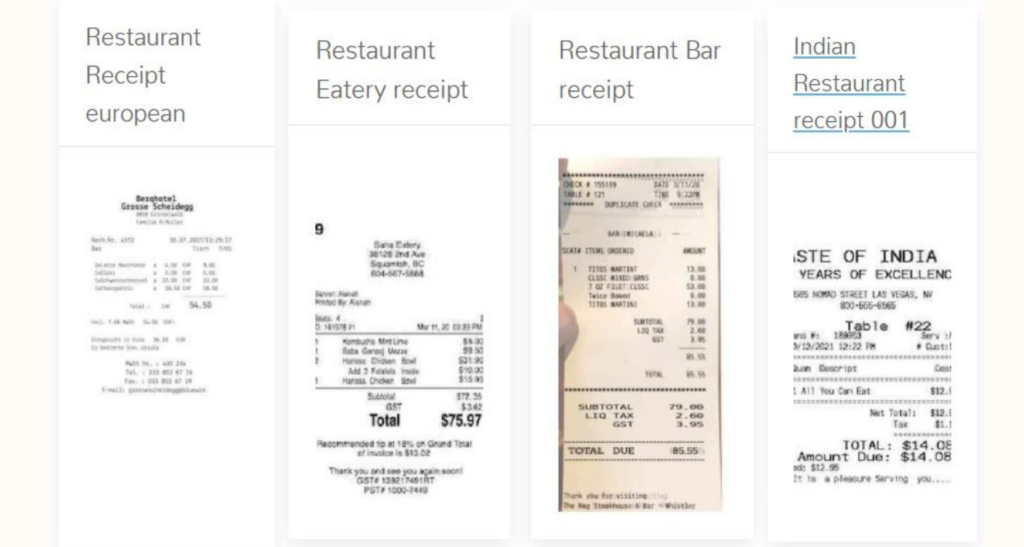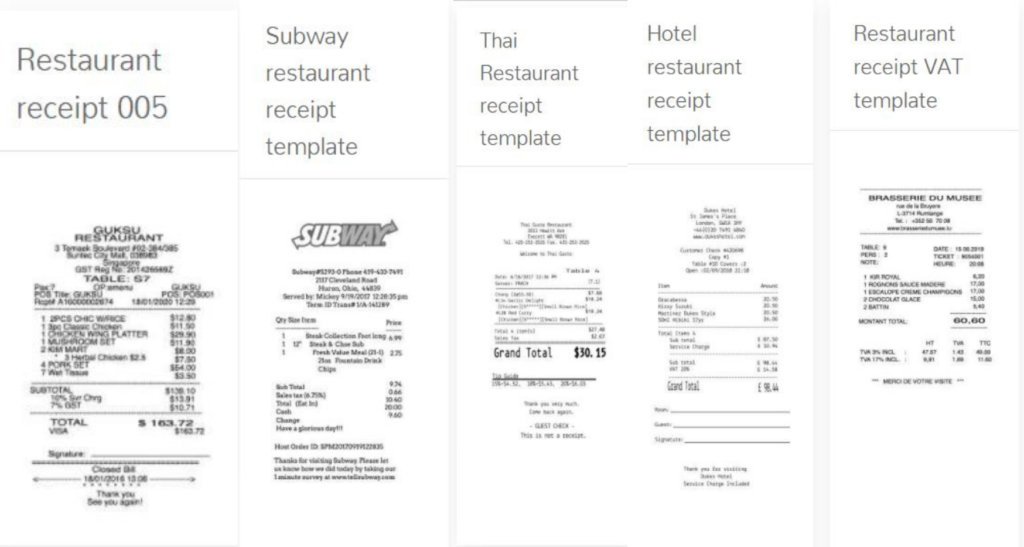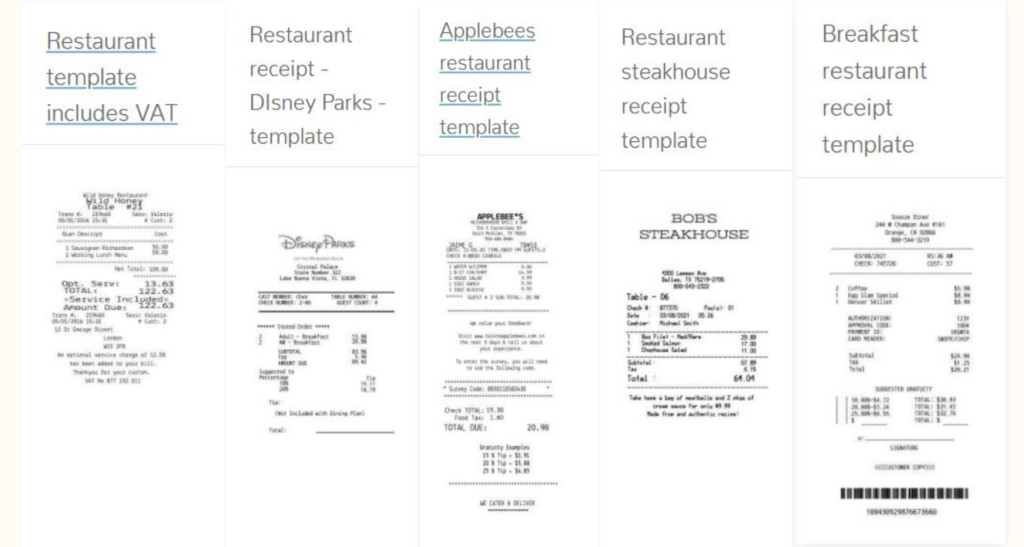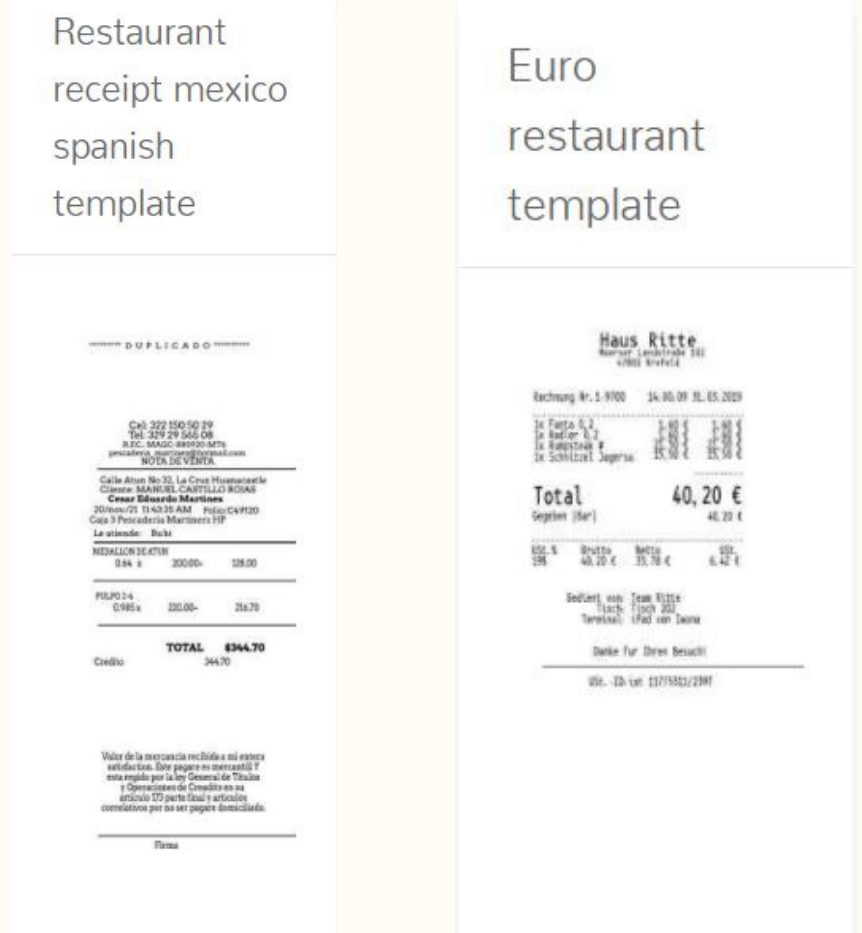 The professional restaurant receipt template is presented in such a way that it gives your restaurant an expensive look and leaves an impression on your customers that you are doing really good business. It also helps in making your business client-oriented as this template has a space for customers' signatures along with their address and contact details. If they like what they see in your restaurant, they might visit again or even recommend your place to their friends, relatives, or co-workers. Word-of-mouth marketing is beneficial to your business growth as it is considered one of the most compelling forms of advertising, and it is always free! If someone loves your product or service, they'll tell everyone they know about it. You do not need to be a dab hand or need to put your time dedication into your business marketing campaigns all the time, as sometimes 99% effort is enough. With social media, customers can share what you do with thousands of people within seconds.
There are a lot of receipt templates to choose from. You may visit the FAQs section for more details, or GET STARTED TODAY, and enjoy the ExpenseFast features offered.